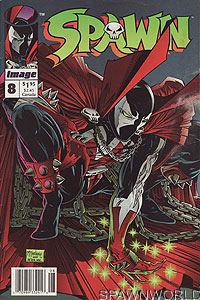 Image: Trent

- Book:
Spawn
- Issue:
8
- Date:
March 1993
- Writer(s):
- Alan Moore
- Artist(s):

- Todd McFarlane
- Tom Orzechowski
- Steve Oliff
- Reuben Rude
- Olyoptics
(Cover, Interiors)
(Letters)
(Interior Color)
(Interior Color)
(Color)

- Notes:
- This is the newsstand edition. It is printed on newsprint paper and has a upc "barcode" on the front cover.
- 1st appearance of Vindicator

- In Heaven

Billy Kincaid awakens in hell and is led on a bizarre tour of what it has to offer.