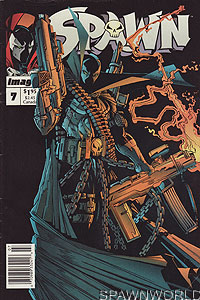 Image: Trent

- Book:
Spawn
- Issue:
7
- Date:
January 1993
- Writer(s):
- Todd McFarlane
- Artist(s):

- Todd McFarlane
- Tom Orzechowski
- Steve Oliff
- Reuben Rude
- Olyoptics
(Cover, Interiors)
(Letters)
(Interior Color)
(Interior Color)
(Color)

- Notes:
- This is the newsstand edition. It is printed on newsprint paper and has a upc "barcode" on the front cover.
- 1st appearance of Bobby

- Payback (part 2 of 2)

As Spawn begins to think of the alleys as home, he decides it is up to him to protect his new homeless family. He decides to rely upon his military training rahter than his powers, and send a message to the mafia and those that would harm his friends.