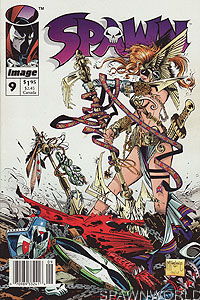 Image: Trent

- Book:
Spawn
- Issue:
9
- Date:
March 1993
- Writer(s):
- Neil Gaiman
- Artist(s):

- Todd McFarlane
- Tom Orzechowski
- Steve Oliff
- Reuben Rude
- Olyoptics
(Cover, Interiors)
(Letters)
(Interior Color)
(Interior Color)
(Color)

- Notes:
- This is the newsstand edition. It is printed on newsprint paper and has a upc "barcode" on the front cover.
- 1st appearance of Angela
- 1st appearance of Cogliostro
- 1st appearance of Gabrielle

- Angela

800 years ago, the angel known as Angela hunted and killed the medieval Spawn. Today she plans to do the same to the Al Simmons hellspawn.

Before his impending confrontation with Angela, Simmons meets a man who calls himself Cagliostro. This old man seems to know who Spawn really is and how he came to be in his current situation.