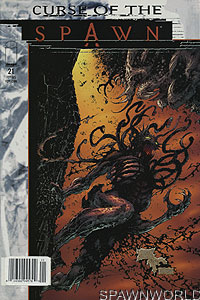 Image: Trent

- Apollo
- Briareus
- Cronus
- Gaia
- Hecatoncheires
- Hell
- Hera
- Leto
- Malebolgia
- Medusa
- Olympus
- Ouranos
- Raenius
- Rhea
- Steropes
- The Titans
- Zeus
- Book:
Curse of the Spawn
- Issue:
21
- Date:
June 1998
- Writer(s):
- Artist(s):

- Dwayne Turner
- Chance Wolf
- Danny Miki
- Todd McFarlane
- Jonathan Glapion
- Tom Orzechowski
- Todd Broeker
- Mark Nicholas
- Brent Ashe
(Pencils)
(Inks)
(Inks)
(Inks)
(Inks)
(Letters)
(Color)
(Color)
(Design, Art direction)

- Notes:
- This is the newsstand edition. It is printed on newsprint paper and has a upc "barcode" on the front cover.)

- Chaos Cometh (Raenius storyline part 2 of 2)

Raenius reunites with his love Medusa, and together they begin their plans of conquest. Zeus futilely tries to recruit a beast called Briareus to save him, but alas, Raenius arrives at his door in Olympus to exact retribution.