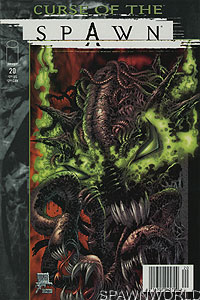 Image: Trent

- Apollo
- Ariena
- Cerberus
- Cronus
- Gaia
- Hades (the god)
- Hades (the place)
- Hell
- Hera
- Medusa
- Nyx
- Olympus
- Ouranos
- Raenius
- Tartarus
- The Titans
- Zeus
- Book:
Curse of the Spawn
- Issue:
20
- Date:
May 1998
- Writer(s):
- Artist(s):

- Dwayne Turner
- Chance Wolf
- Danny Miki
- Todd McFarlane
- Tom Orzechowski
- Todd Broeker
- Mark Nicholas
- Brent Ashe
(Pencils)
(Inks)
(Inks)
(Inks)
(Letters)
(Color)
(Color)
(Design, Art direction)

- Notes:
- This is the newsstand edition. It is printed on newsprint paper and has a upc "barcode" on the front cover.

- Dark Myth (Raenius storyline part 1 of 2)

In the time of Zeus and the Greek Gods, a creature called Raenius is reborn from a new place called Hell. In life, he was the son of Cronus and a mortal woman named Ariena, he was the half-brother of Zeus. In his new life as a hellspawn, he is an agent of revenge sent out to destroy Zeus and the other Gods.