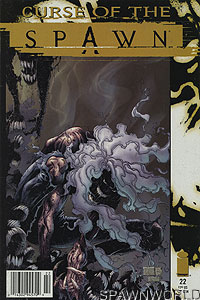 Image: Trent

- Barry Esteridge
- Dead Earth
- Freak
- Hatchet
- Jasmine
- Pete
- Ryan Hatchett
- Steve Skirvish
- Suzette
- Z1
- Z2
- Z3
- Zombie Spawn
- Book:
Curse of the Spawn
- Issue:
22
- Date:
July 1998
- Writer(s):
- Artist(s):

- Dwayne Turner
- Chance Wolf
- Jason Gorder
- Jonathan Glapion
- Tom Orzechowski
- Todd Broeker
- Mark Nicholas
(Pencils)
(Inks)
(Inks)
(Inks)
(Letters)
(Color)
(Color)

- Notes:
- This is the newsstand edition. It is printed on newsprint paper and has a upc "barcode" on the front cover.

- Deadland (Ryan Hatchett story)

A teenage boy named Ryan Hatchett comes from a troubled home and is not respected at school. When his beloved girlfriend cheated on him he decided life wasn't worth living any longer and attempted suicide. He jumped off a bridge, but moments before impact he was struck by lightning and somehow transported to an alternate dimension. This new world is overcome by Zombies and Hatchett quickly learns to stand up for himself.

Armed with a new self confidence and purpose, Hatchett believes that if he destroys the Zombie leader, he can return to his original world and be a boy once again.