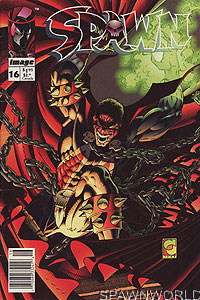 Image: Trent

- Book:
Spawn
- Issue:
16
- Date:
December 1993
- Writer(s):
- Grant Morrison
- Artist(s):

- Greg Capullo
- Dan Panosian
- Art Thibert
- Tom Orzechowski
- Steve Oliff
- Olyoptics
(Pencils)
(Inks)
(Inks)
(Letters)
(Color)
(Color)

- Notes:
- This is the newsstand edition. It is printed on newsprint paper and has a upc "barcode" on the front cover.
- 1st appearance of The Redeemer (Anti-Spawn)
- This is the first Spawn issue pencilled by Greg Capullo.

- Refections (part 1 of 3)

Heaven feels threatened by the presence of the new hellspawn and decides to create a warrior of its own.