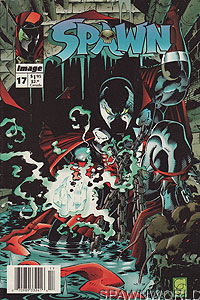 Image: Trent

- Book:
Spawn
- Issue:
17
- Date:
January 1994
- Writer(s):
- Todd McFarlane
- Artist(s):

- Greg Capullo
- Mark Pennington
- Tom Orzechowski
- Steve Oliff
- Olyoptics
(Pencils)
(Inks)
(Letters)
(Color)
(Color)

- Notes:
- This is the newsstand edition. It is printed on newsprint paper and has a upc "barcode" on the front cover.


- Refections (part 2 of 3)

Spawn visits the grave of Al Simmons in an attempt to discover what he has become. Shortly after, he is sent to a place called Simmonsville in Nevada and is confronted by teh first Redeemer, the Anti-Spawn.