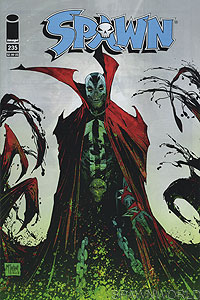 Image: Trent

- Book:
Spawn
- Issue:
235
- Date:
September 2013
- Writer(s):

- Jon Goff
- Todd McFarlane
(Plot)
(Plot, Script)

- Artist(s):

- Szymon Kudranski
- Todd McFarlane
- Fco Plascencia
- Tom Orzechowski
(Interior Illustration)
(Cover)
(Color)
(Letters)

- Notes:
- There are 2 different covers available for this issue. This is the standard cover.

- Bluddlines

Jim discusses his situation with Max Williams while they are both in The White. While there he learns about the past of one of his most dangerous foes: Bludd.