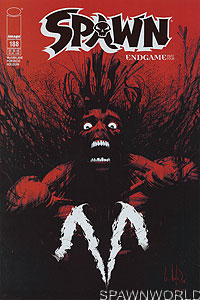 Image: Trent

- Book:
Spawn
- Issue:
188
- Date:
January 2009
- Writer(s):

- Todd McFarlane
- Brian Holguin

- Artist(s):

- Whilce Portacio
- Todd McFarlane
- Jay Fotos
- Jin Han
- Tom Orzechowski
(Pencils)
(Digital Inks)
(Interior Color)
(Cover Color)
(Letters)

- Notes:
(N/A)

- Endgame Part Four (of 12)

After the destruction of St. Anthony's Hospital, patients are scattered throughout the city, including Jim Downing. Amidst the chaos, Jim tries to understand the odd powers that manifested when he was attacked.

Back in the alleys, the Violator is formulating a plan to get back in the game and begins by making sure no one else knows about the strange Anomaly at the scene of Al SImmons' suicide.