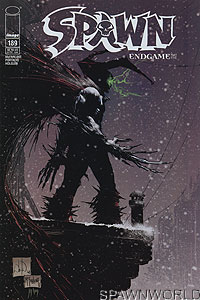 Image: Trent

- Book:
Spawn
- Issue:
189
- Date:
February 2009
- Writer(s):

- Todd McFarlane
- Brian Holguin

- Artist(s):

- Whilce Portacio
- Todd McFarlane
- Jay Fotos
- Jin Han
- Tom Orzechowski
(Pencils)
(Digital Inks)
(Interior Color)
(Cover Color)
(Letters)

- Notes:
This issue was released with two covers. This standard cover and a McFarlane sketch cover.

- Endgame Part Five (of 12)

Jim's powers manifest again and it is clear he has become the new hellspawn. Confused and newly powerful, Jim bursts out into the city to test his new abilities.

The Violator continues laying groundwork for his schemes by starting to recruit his peers. He starts with a mysterious dog Trainer that has been living as a human for years.