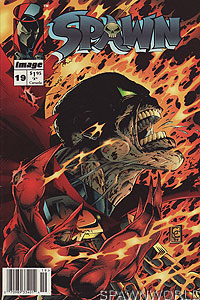 Image: Trent

- Book:
Spawn
- Issue:
19
- Date:
October 1994
- Writer(s):
- Tom Orzechowski
- Andrew Grossberg
- Artist(s):

- Greg Capullo
- Mark Pennington
- Tom Orzechowski
- Steve Oliff
- Olyoptics
(Pencils)
(Inks)
(Letters)
(Color)
(Color)

- Notes:
- This is the newsstand edition. It is printed on newsprint paper and has a upc "barcode" on the front cover.
- Spawn uses his costume's energy to manifest an object for the first time.

- Showtime (part 1 of 2)

There is a place between dimensions and outside the realm of Heaven, Hell or Earth. It is called the Overlap, and its inhabitants have sent an agent to speak with Spawn: his name is Harry Houdini.