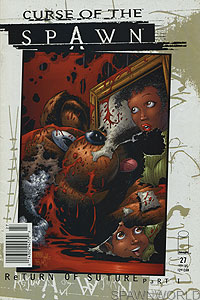 Image: Trent

- Al Simmons
- The Crocodile Killer
- Cyan
- Damon Edward Foster
- Gretchen Culver
- John Mawbley
- Marc Simmons
- Roger Bonner
- Sam Burke
- Suture
- Terry Fitzgerald
- Travis Quinn
- Trey Simmons
- Twitch Williams
- Wanda Blake
- Yvonne Simmons
- Book:
Curse of the Spawn
- Issue:
27
- Date:
December 1998
- Writer(s):
- Artist(s):

- Clayton Crain
- Chance Wolf
- Todd McFarlane
- Jonathan Glapion
- Tom Orzechowski
- Todd Broeker
- Mark Nicholas
- John Gallagher
- Boyd Williams
- Brent Ashe
(Pencils)
(Inks)
(Inks)
(Inks)
(Letters)
(Color)
(Color)
(Design)
(Design)
(Art Direction)

- Notes:
- This is the newsstand edition. It is printed on newsprint paper and has a upc "barcode" on the front cover.

- Ghosts (Suture storyline part 2 of 3)

Marc Simmons's hero in the world of criminal profiling contacts him unexpectedly and offers him a deal, he will provide the name of the man who killed Simmons's family if Simmons helps him capture Suture. Simmons agrees reluctantly and they set off to ambush Suture when she comes for the Crocodile Killer.