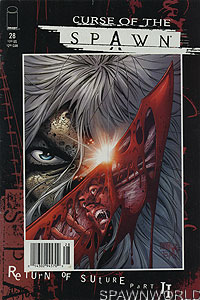 Image: Trent

- Dr. Ian Sanders / Saunders
- Gretchen Culver
- The Head Hunter
- Julie Saunders
- Meagan
- Suture
- Book:
Curse of the Spawn
- Issue:
28
- Date:
February 1999
- Writer(s):
- Artist(s):

- Clayton Crain
- Chance Wolf
- Todd McFarlane
- Jonathan Glapion
- Tom Orzechowski
- Todd Broeker
- Jay Fotos
- Drew Hutchinson
- John Gallagher
- Boyd Williams
- Brent Ashe
(Pencils)
(Inks)
(Inks)
(Inks)
(Letters)
(Color)
(Color)
(Color)
(Design)
(Design)
(Art Direction)

- Notes:
- This is the newsstand edition. It is printed on newsprint paper and has a upc "barcode" on the front cover.

- Bleed (Suture storyline part 3 of 3)

Suture contemplates her existence and decides to seek professional help. She chooses a man by the name of Dr. Ian Saunders, a well known psychiatrist as well as serial killer known as the Head Hunter. She offers him a choice between helping her and death.