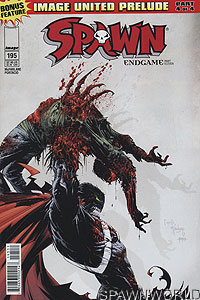 Image: Trent

- Book:
Spawn
- Issue:
195
- Date:
October 2009
- Writer(s):
- Artist(s):

- Whilce Portacio
- Todd McFarlane

- Jay Fotos
- Greg Capullo
- Tom Orzechowski
(Pencils)
(Pencils, Inks, Layouts, Cover)
(Color)
(Layouts, Cover)
(Letters)

- Notes:
This issue also features part 4 of 4 to an Image United Prelude story.

- Endgame Part Eleven (of 12)

FBI agent Craig Rowand arrives in New York and meets the frustratingly uncooperative Sam Burke in person. Despite their differences, the two detectives (with Twitch's help) discover some common threads in their cases.

Back at Sara's apartment, Jim finally returns home exhasted, but has to leave again almost immediately when Sara's friend Judy is kidnapped.