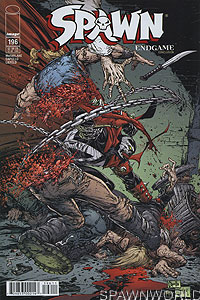 Image: Trent

- Book:
Spawn
- Issue:
196
- Date:
March 2010
- Writer(s):
- Artist(s):

- Todd McFarlane
- Rob Liefeld
- Greg Capullo
- Jay Fotos
- Tom Orzechowski
(Pencils, Inks, Cover)
(Interior Pencils)
(Layouts, Cover)
(Color)
(Letters)

- Notes:
(N/A)

- Endgame Conclusion (Part 12 of 12)

Jim's murder of one of Judy's kidnappers ends up making the front page, and reporter Marc Rosen makes an important realization about Jim.

Meanwhile, Jim finally tracks down Carlos Nortego and shows that he has already learned to control his powers well enough to pose a big threat. With Nortego in his clutches, Jim makes an unexpected discovery about his past.

Afterwards, the Clown shows up and teaches Jim about the new nature of his existence.