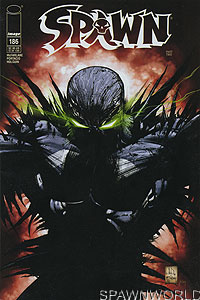 Image: Trent

- Book:
Spawn
- Issue:
186
- Date:
November 2008
- Writer(s):

- Todd McFarlane
- Brian Holguin

- Artist(s):

- Whilce Portacio
- Todd McFarlane
- Jin Han
- Tom Orzechowski
(Pencils)
(Digital Inks)
(Color)
(Letters)

- Notes:
- 1st appearance of Craig Rowand
- There was also a 2nd printing of this issue.


- Endgame Part Two (of 12)

The mysterious patient with no past, Patient 47, learns the name on his charts was Jim Downing. A caring nurse named Sara has taken a special interest in Jim and the two are quickly becoming friends. Little do they know that someone has just hired a super-powered bounty hunter to track Jim down.

Elsewhere, the Violator realizes that with both Spawn and Malebolgia out of the picture, he is free to his own devices.