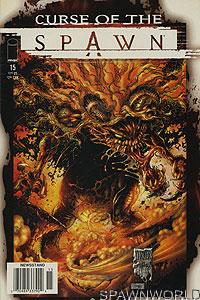 Image: Trent

- Abdiel
- Al Simmons
- Angel General Cheriour
- Angela*
- Badlands Saloon
- Ball of Heavenly Transit
- Borellian White Lightning
- Corn Boy
- Eighth Plane
- God
- Heaven
- Hell
- Hoof*
- Leviathan
- Lillith, Grand Duchess of the Eighth Plane
- Malebolgia
- Newbie*
- Poacher
- Satan
- Smuggler
- Sword of Divine Wrath
- Thresher

* Shown but not named
- Book:
Curse of the Spawn
- Issue:
15
- Date:
December 1997
- Writer(s):
- Brian Haberlin
- Artist(s):

- Dwayne Turner
- Danny Miki
- Chance Wolf
- Tom Orzechowski
- Todd Broeker
- Mark Nicholas
(Pencils)
(Inks)
(Inks)
(Letters)
(Color)
(Color)

- Notes:
- This is the newsstand edition. It is printed on newsprint paper and has a upc "barcode" on the front cover.

- Sympathy for an Angel (Abdiel storyline part 1 of 2)

In the Badlands Saloon, a neutral gound where all manner of creatures can mingle in relative safety, bartender Poacher recounts the tale of how he came to own the breastplate of the angel Abdiel.

Abdiel was commissioned by Angel General Cheriour to sneak into Hell and eliminate Malebolgia before he could create a powerful new hellspawn named Al Simmons.