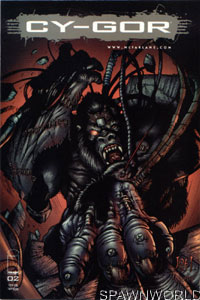 Image: Trent

- Book:
Cy-Gor
- Issue:
2
- Date:
August 1999
- Writer(s):
- Rick Veitch
- Artist(s):

- Joel Thomas
- Richard Starkings
- Wes Abbott
- Todd Broeker
- Jay Fotos
- Drew Hutchinson
(Cover, Interiors)
(Letters)
(Letters)
(Color)
(Color)
(Color)

- Notes:
(N/A)

- Fire in Mind Part 2

Cy-Gor is retooled at a secret floating island facility currently stationed off the coast of New York. Sasa and Fatima, the gypsies whose monkey Gregor was taken, head off in a boat to find Gregor.

Cy-Gor escapes once again and removes the computer chip that allows the USSG to control him. He rescues Gregor the monkey and returns him to a grateful Fatima.