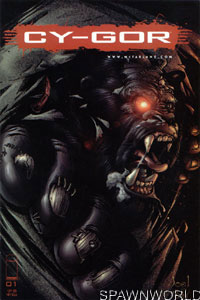 Image: Trent

- Book:
Cy-Gor
- Issue:
1
- Date:
July 1999
- Writer(s):
- Rick Veitch
- Artist(s):

- Joel Thomas
- Richard Starkings
- Wes Abbott
- Todd Broeker
- Jay Fotos
- Drew Hutchinson
(Cover, Interiors)
(Letters)
(Letters)
(Color)
(Color)
(Color)

- Notes:
(N/A)

- Fire in Mind Part 1

Cy-Gor is presumed dead and is being transported in an armored car while he remembers bits and pieces of his former life and his rebirth. When he awakes, Cy-Gor breaks loose and has to be forcibly recaptured.

One of the USSG agents involved with Cy-Gor has a chance encounter with a pair of gypsies that leads to him taking their monkey for experimentation. Cy-Gor befriends the new monkey as they are transported back to a research facility.