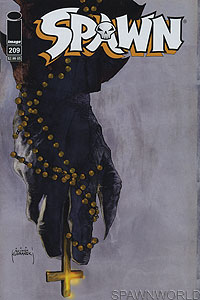 Image: Trent

- Book:
Spawn
- Issue:
209
- Date:
July 2011
- Writer(s):

- Jon Goff
- Will Carlton
- Todd McFarlane
(Plot, Additional Script)
(Story)
(Additional Plot)

- Artist(s):

- Szymon Kudranski
- FCO Plascencia
- Tom Orzechowski
- Ben Timmreck
- Joe Ferstl
(Illustration)
(Color)
(Letters)
(Art Direction)
(Production Artist)

- Notes:
(N/A)

- Q & A (Part 3 of 4)

Twitch recounts his history with Al Simmons and the curse of the Spawn to Jim Downing. As compensation, Jim agrees to try and help Sam who's still in the hospital dying.

Meanwhile the Violator continues to assemble his small army of minions.