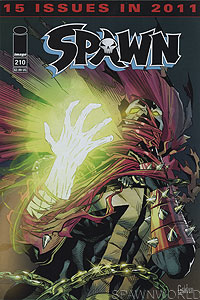 Image: Trent

- Book:
Spawn
- Issue:
210
- Date:
August 2011
- Writer(s):

- Jon Goff
- Will Carlton
- Todd McFarlane
(Plot, Additional Script)
(Story)
(Additional Plot)

- Artist(s):

- Szymon Kudranski
- FCO Plascencia
- Michael Golden
- Tom Orzechowski
- Lois Buhalis
- Ben Timmreck
- Joe Ferstl
(Interior Illustration)
(Color)
(Cover Pencils)
(Letters)
(Letters)
(Art Direction)
(Production Artist)

- Notes:
(N/A)

- Q & A (Part 4 of 4)

Twitch discusses the unbelievalble things Detective Rowand witnessed and coaches him on how to deal with it. Later, when Jim Downing arrives, the 3 men discuss the common issues plaguing them.

Earlier, Jim tried to heal Sam, but something went wrong and he struggled to regain control of his costume. Watching from a distance, the remaining members of the Old Guard plot their next move.