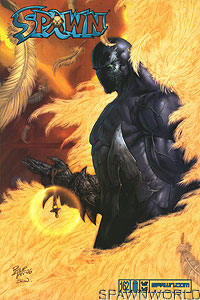 Image: Trent

- Book:
Spawn
- Issue:
162
- Date:
November 2006
- Writer(s):
- Artist(s):

- Philip Tan
- Danny Miki
- Allen Martinez
- Ryan Winn
- Crime Lab Studios
- Tom Orzechowski
- Brian Haberlin
- Andy Troy
- Ian Hannin
- Jay Fotos
(Pencils)
(Inks)
(Inks)
(Inks)
(Inks)
(Letters)
(Color)
(Color)
(Color)
(Production)

- Notes:
- Al Simmons battles Zera
- Death of Granny Blake
- Death of Thamuz
- Al Simmons destroys mankind
- 1st appearance of Morana

- (untitled) (Armageddon storyline part 9 of 11)

Al Simmons battles Heaven's greatest warrior, Zera, with his newly earned powers. When the battle is over, God and Satan temporarily join forces and send the entirety of Heaven, Hell and Mankind against Al.

Elsewhere. more of Mammon's scheming comes to light.