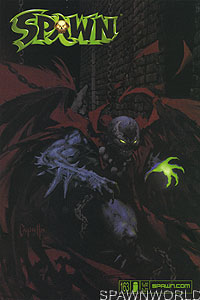 Image: Trent

- Book:
Spawn
- Issue:
163
- Date:
December 2006
- Writer(s):
- Artist(s):

- Philip Tan
- Rodel Noora
- Danny Miki
- Allen Martinez
- Ryan Winn
- Crime Lab Studios
- Tom Orzechowski
- Brian Haberlin
- Andy Troy
- Jay Fotos
(Pencils)
(Pencils)
(Inks)
(Inks)
(Inks)
(Inks)
(Letters)
(Color)
(Color)
(Production)

- Notes:
- Al Simmons recreates Earth and mankind

- (untitled) (Armageddon storyline part 10 of 11)

God and Satan resume their true forms and attack Al SImmons. He allows them to believe he has been destroyed, and leaves them to fight each other for eternity on Earth.

Elsewhere, Al discusses with Mother the future of mankind.