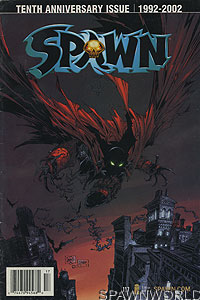 Image: Trent

- Book:
Spawn
- Issue:
117
- Date:
May 2002
- Writer(s):

- Brian Holguin
- Todd McFarlane
(Plot, Story)
(Plot)

- Artist(s):

- Angel Medina
- Danny Miki
- Victor Olazaba
- Allen Martinez
- Crime Lab Studios
- Greg Capullo
- Todd McFarlane
- Tom Orzechowski
- Dan Kemp
- Brian Haberlin
- Gentry Smith
- Ben Timmreck
(Pencils)
(Inks)
(Inks)
(Inks)
(Inks)
(Cover pencils)
(Cover inks)
(Letters)
(Color)
(Color)
(Graphic design)
(Graphic design)

- Notes:
- This is the newsstand edition. It is printed on newsprint paper and has a upc "barcode" on the front cover.


- A Season in Hell Part I

As Spawn and the new Redeemer battle over the sands of Tunisia, Mammon visits Eddie's human body in the hospital and reveals the truth about his life that Eddie had forgotten.