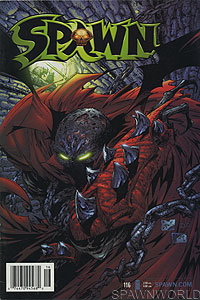 Image: Trent

- Book:
Spawn
- Issue:
116
- Date:
March 2002
- Writer(s):

- Brian Holguin
- Todd McFarlane
(Plot, Story)
(Plot)

- Artist(s):

- Angel Medina
- Danny Miki
- Victor Olazaba
- Allen Martinez
- Crime Lab Studios
- Greg Capullo
- Todd McFarlane
- Tom Orzechowski
- Dan Kemp
- Brian Haberlin
- Brent Ashe
(Pencils)
(Inks)
(Inks)
(Inks)
(Inks)
(Cover pencils)
(Cover inks)
(Letters)
(Color)
(Color)
(Graphic design)

- Notes:
- This is the newsstand edition. It is printed on newsprint paper and has a upc "barcode" on the front cover.
1st appearance of Redeemer (III)

- Consequences

Spawn and Cog discuss what Spawn has become and what will become of Hell. When Spawn tells Cog his plans, Cog is startled and intrigued.

Elsewhere, Eddie Frank travels to New York once again. He has been released from juvenile detention and has come to pay Spawn another visit - but this time he has brought a gun.