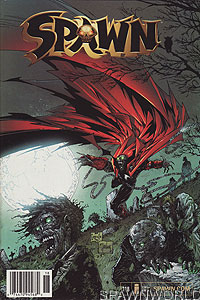 Image: Trent

- Book:
Spawn
- Issue:
118
- Date:
June 2002
- Writer(s):

- Brian Holguin
- Todd McFarlane
(Plot, Story)
(Plot)

- Artist(s):

- Angel Medina
- Danny Miki
- Victor Olazaba
- Allen Martinez
- Crime Lab Studios
- Greg Capullo
- Todd McFarlane
- Tom Orzechowski
- Dan Kemp
- Brian Haberlin
- Gentry Smith
- Ben Timmreck
(Pencils)
(Inks)
(Inks)
(Inks)
(Inks)
(Cover pencils)
(Cover inks)
(Letters)
(Color)
(Color)
(Graphic design)
(Graphic design)

- Notes:
- This is the newsstand edition. It is printed on newsprint paper and has a upc "barcode" on the front cover.
First hints as to Cog's true identity

- A Season in Hell Part II

Spawn experiences a number of visions while in Hell that seem to contradict his view of the life of Al Simmons. On Earth, Mammon confronts Cog and tells the old man his time is finally up. After a brief discussion, Cog relents and hangs himself, only to appear in Hell by Spawn's side.