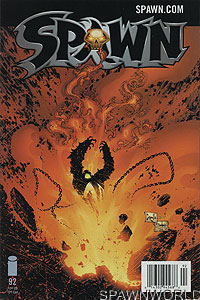 Image: Trent

- Book:
Spawn
- Issue:
92
- Date:
February 2000
- Writer(s):

- Brian Holguin
- Todd McFarlane
(Plot, Story)
(Plot)

- Artist(s):

- Greg Capullo
- Danny Miki
- Todd McFarlane
- Tom Orzechowski
- Dan Kemp
- Brian Haberlin
- John Gallagher
- Boyd Williams
(Pencils)
(Inks)
(Cover Inks)
(Letters)
(Color)
(Color)
(Art Design)
(Art Design)

- Notes:
- This is the newsstand edition. It is printed on newsprint paper and has a upc "barcode" on the front cover.


- Black Cat Bones (part 2 of 2)

Held captive by Mark of the Beast, Spawn is offered a chance to swap places with Mark and be rid of the curse forever. He allows Mark the opportunity he never had though, when he takes Mark for a tour of Hell with a chance of backing out of the deal.