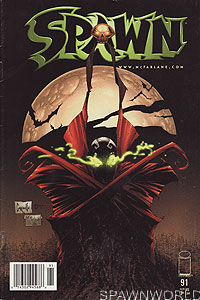 Image: Trent

- Book:
Spawn
- Issue:
91
- Date:
January 2000
- Writer(s):

- Brian Holguin
- Todd McFarlane
(Plot, Story)
(Plot)

- Artist(s):

- Greg Capullo
- Danny Miki
- Lee Matsunami
- Todd McFarlane
- Tom Orzechowski
- Dan Kemp
- Brian Haberlin
- John Gallagher
- Boyd Williams
(Pencils)
(Inks)
(Inks)
(Cover Inks)
(Letters)
(Color)
(Color)
(Art Design)
(Art Design)

- Notes:
- This is the newsstand edition. It is printed on newsprint paper and has a upc "barcode" on the front cover.
1st appearance of Mark "of the Beast"

- Black Cat Bones (part 1 of 2)

An occultist man by the name of Mark lives in Santa Monica, California and rules over a small group of squatters and addicts. They call him Mark fo the Beast because they believe he worships the devil, but in reality, Mark worships power. Currently, he lusts after the power of the hellspawn and takes steps to lure Spawn to him.