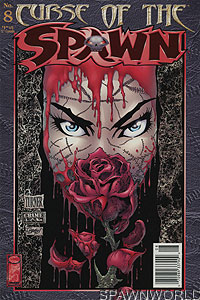 Image: Trent

- 29th Precinct
- Bill Nubana
- Det. Brayde
- Det. Edland
- Det. Ray Sparks
- Donna Weaver
- Evan Kaine
- Gretchen Culver
- Jeremiah "Sharpie" Euden
- Karla Ross
- Kenny Osborne
- Odessa
- Officer David Bremer
- Officer Deke
- Officer Michelli
- Officer Peter Tisch
- Sam Burke
- Sergeant Halliday
- Suture
- The Rose Killer
- Twitch Williams
- Wayne Tannager
- Book:
Curse of the Spawn
- Issue:
8
- Date:
April 1997
- Writer(s):
- Artist(s):

- Dwayne Turner
- Danny Miki
- Tom Orzechowski
- Todd Broeker
- Mark Nicholas
- John Gordon
(Pencils)
(Inks)
(Letters)
(Color)
(Color)
(Color)

- Notes:
- This is the newsstand edition. It is printed on newsprint paper and has a upc "barcode" on the front cover.

- Carnival of Souls (Suture storyline part 4 of 4)

Suture has surrendered to the police and is waiting patiently for her final victims to pay her a visit. Sam and Twitch work a confession out of Kenny Osborne and head for the police station, but are ambushed by a car full of shotguns. The wounded detectives then track down the cops responsible and intend to get justice.