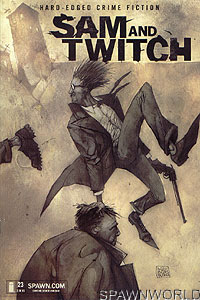 Image: Trent

- Ali
- Bill
- Brad Cusack
- Commander Monica Straight
- Dave Hunt
- Jim Unger
- John Doe
- KC McRory
- Kirk McGuire
- Lawrence Donalson
- Margaret Williams
- Mark Filson
- Mrs Beeston
- Sam Burke
- Tom Beeston
- Tracy
- Travis Williams
- Twitch
- Book:
Sam and Twitch
- Issue:
23
- Date:
January 2002
- Writer(s):
- Todd McFarlane
- Artist(s):

- Alex Maleev
- Ashley Wood
- Drew Hutchinson
- Jay Fotos
- Brent Ashe
- Boyd Williams
(Interiors)
(Cover)
(Letters)
(Color)
(Graphic Design)
(Graphic Design)

- Notes:
(N/A)

- The John Doe Affair Part 4

The rookie that has been tagging along with Sam and Twitch is implicated in the case by the Feds. He maintains that he is innocent, but one of the witnesses that could clear his name has gone missing.

Sam goes on his date with Tracy, but little does he know that soon afterward she may have been abducted by the killer they are hunting.