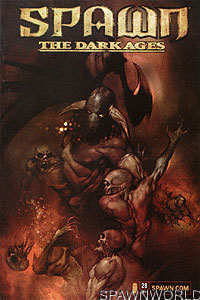 Image: Trent

- Alek
- Beast of the Wood
- Cogliostro
- Hellspawn
- Iain Covenant
- Necroplasm
- Phlebiac Brothers
- Raven
- Rhyll
- Shiann
- Vandal
- Book:
Spawn: The Dark Ages
- Issue:
28
- Date:
October 2001
- Writer(s):
- Steve Niles
- Artist(s):

- Nat Jones
- Kevin Conrad
- Rich Bonk
- Ashley Wood
- Oscar Gongora
- Todd Broeker
- Boyd Williams
- Brent Ashe
(Pencils)
(Inks)
(Inks)
(Cover)
(Letters)
(Color)
(Graphic Design)
(Graphic Design)

- Notes:
This is the final issue that was released for this series.

- The End

Covenant and Cogliostro go their seperate ways after securing the necroplasm once again within a druid circle. Cog goes off in search of the next hellspawn, while Covenant returns to Rhyll.

Back in Rhyll, Covenant is shocked to discover it destroyed, again, by the Beast of the Wood. Raven is frantic as she was unable to defend the village. Together, they discover that young Alek was not a boy at all, but in fact a demon named Vandal sent by hell to spy on Covenant. Vandal then reveals who the true Beast of the Wood really is.