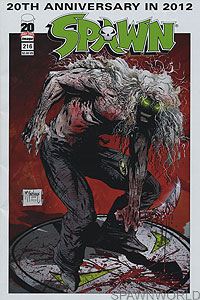 Image: Trent

- Book:
Spawn
- Issue:
216
- Date:
February 2012
- Writer(s):

- Jon Goff
- Todd McFarlane
(Plot)
(Plot, Script)

- Artist(s):

- Szymon Kudranski
- FCO Plascencia
- Todd McFarlane
- Tom Orzechowski
- Lois Buhalis
- Ben Timmreck
- Joe Ferstl
(Interior Illustration)
(Color)
(Cover)
(Letters)
(Letters)
(Art Direction)
(Production Artist)

- Notes:
- There were two covers available for this issue. A standard cover, and a black and white "sketch" cover.

- The Gathering Storm (Part 4 of 6)

Years of research and testing on multiple patients has led to many failures and little success for the partnership between Jason Wynn and (pre-coma) Jim Downing. Their attempts to create a super-human have led to the creation of a number of familiar faces, and have taken their toll on Jim Downing's personal life.