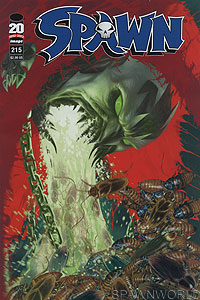 Image: Trent

- Book:
Spawn
- Issue:
215
- Date:
January 2012
- Writer(s):

- Jon Goff
- Will Carlton
- Todd McFarlane
(Plot, Additional Script)
(Story)
(Additional Plot)

- Artist(s):

- Szymon Kudranski
- FCO Plascencia
- Michael Golden
- Tom Orzechowski
- Lois Buhalis
- Ben Timmreck
- Joe Ferstl
(Interior Illustration)
(Color)
(Cover Pencils)
(Letters)
(Letters)
(Art Direction)
(Production Artist)

- Notes:
(N/A)

- The Gathering Storm (Part 3 of 6)

Jim appears on another television talk show, this time to promote his newly created charity foundation. Meanwhile, Twitch and Rowand make a startling discovery about Jim and Malebolgia discovers that Violator's treason is even more serious than he might have thought.

On the other side of the world, the Vatican discusses how best to get in touch with Jim and decide to use Sara as their contact.