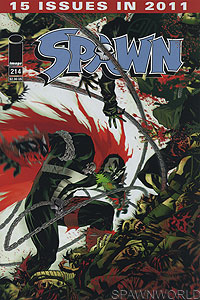 Image: Trent

- Book:
Spawn
- Issue:
214
- Date:
December 2011
- Writer(s):

- Jon Goff
- Will Carlton
- Todd McFarlane
(Plot, Additional Script)
(Story)
(Additional Plot)

- Artist(s):

- Szymon Kudranski
- FCO Plascencia
- Michael Golden
- Tom Orzechowski
- Ben Timmreck
- Joe Ferstl
(Interior Illustration)
(Color)
(Cover Pencils)
(Letters)
(Art Direction)
(Production Artist)

- Notes:
(N/A)

- The Gathering Storm (Part 2 of 6)

While Jim visits Ramus to try and secure funding for his new foundation, Marc is supposed to meet a contact with information regarding Jim's past. At the rendezvous, however, Marc is informed that he is walking into a trap.

Back at the Ramus Corporation, Jim applies some pressure to Ramus using new information that he gleaned from the Old Guard.