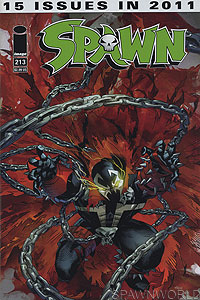 Image: Trent

- Book:
Spawn
- Issue:
213
- Date:
November 2011
- Writer(s):

- Jon Goff
- Will Carlton
- Todd McFarlane
(Plot, Additional Script)
(Story)
(Additional Plot)

- Artist(s):

- Szymon Kudranski
- FCO Plascencia
- Michael Golden
- Tom Orzechowski
- Ben Timmreck
- Joe Ferstl
(Interior Illustration)
(Color)
(Cover Pencils)
(Letters)
(Art Direction)
(Production Artist)

- Notes:
(N/A)

- The Gathering Storm (Part 1 of 6)

Jim Downing has made the decision to embrace his celebrity status and create a foundation to help the unfortunate. Unfortunately, all teh excitement has become too much for Sara and she is leaving him.

Meanwhile, the CIA has been alerted to the wedding photograph of Jim is quietly hunting down anyone who has had contact with the photo.