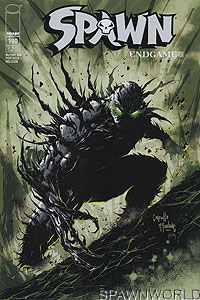 Image: Trent

- Book:
Spawn
- Issue:
190
- Date:
March 2009
- Writer(s):

- Todd McFarlane
- Brian Holguin

- Artist(s):

- Whilce Portacio
- Todd McFarlane
- Jay Fotos
- Greg Capullo
- Jin Han
- Tom Orzechowski
(Pencils)
(Digital Inks)
(Interior Color)
(Layouts)
(Cover Color)
(Letters)

- Notes:
(N/A)

- Endgame Part Six (of 12)

A number of investigations are underway: Reporter Marc Rosen is interviewing patients of St. Anthony's anf finds something unexpected. An angel senses a strange presence nearby and tracks down Jim Downing. Meanwhile, a crime organization continues looking for the mysterious Patient 47 themselves, and all the while, Jim keeps looking for clues to his past.

The first clue comes to Jim after a chance encounter with a woman in a diner, a woman named Wanda Blake.