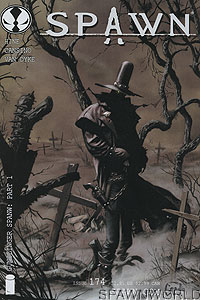 Image: Trent

- Book:
Spawn
- Issue:
174
- Date:
January 2008
- Writer(s):
- Artist(s):

- Bing Cansino
- Geirrod Van Dyke
- Tom Orzechowski
- Greg Capullo
- Francis Takenaga
(Interiors)
(Interiors)
(Letters)
(Cover)
(Production)

- Notes:
- 1st appearance of Ol' Job

- Gunslinger Spawn: Part 1 (of 2)

The story of Al's great-grandfather is told. He was a buffalo soldier forced to go on the run and change his name after a shootout incident at a saloon.

When he was eventually caught and arrested, he met two people that would change his life forever: the hellspawn Ol' Job and the fallen angel Mammon.