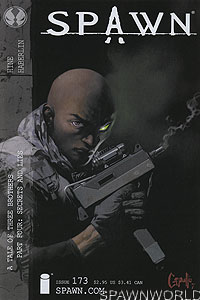 Image: Trent

- Book:
Spawn
- Issue:
173
- Date:
October 2007
- Writer(s):
- Artist(s):

- Brian Haberlin
- Tom Orzechowski
- Andy Troy
- Francis Takenaga
- Diana Sanson
- Greg Capullo
(Pencils, Inks)
(Letters)
(Color)
(Production)
(Production)
(Cover)

- Notes:
(N/A)

- A Tale of Three Brothers Part Four (of 4): Secrets and Lies

Spawn and Nyx visit his childhood home and they find his parents there waiting for him. Immediately, Spawn discovers that his entire life has been orchestrated by the fallen angel Mammon.

Elsewhere, Al's little brother Richie reaches the conclusion that his life has been wasted and that he belngs in Hell - to which Mammon is happy to oblige.