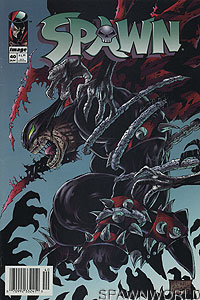 Image: Trent

- Book:
Spawn
- Issue:
40
- Date:
January 1996
- Writer(s):
- Todd McFarlane
- Artist(s):

- Tony Daniel
- Kevin Conrad
- Tom Orzechowski
- Todd Broeker
- Roy Young
(Pencils)
(Inks)
(Letters)
(Color)
(Computer Color)

- Notes:
- This is the newsstand edition. It is printed on newsprint paper and has a upc "barcode" on the front cover.
1st use of the term 'Rat City'

- Fugitives (part 1 of 2)

After his throne is booby trapped, Spawn returns to consciousness in the hands of the Curse. He quickly dsicovers that while he was out, the Curse has been hard at work dissecting him.

Meanwhile, authorities track and attempt to capture Cy-Gor, who has been traveling through the safety of the woods. When he crosses paths with a little boy named Tony,
Cy-Gor risks his own life to save the boy.