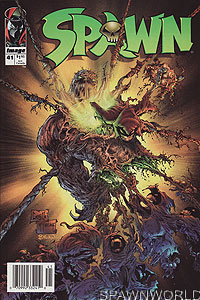 Image: Trent

- Book:
Spawn
- Issue:
41
- Date:
January 1996
- Writer(s):
- Todd McFarlane
- Artist(s):

- Greg Capullo
- Todd McFarlane
- Danny Miki
- Tom Orzechowski
- Brian Haberlin
- J.D. Smith
- Dan Kemp
(Pencils)
(Inks)
(Art Assists)
(Letters)
(Color)
(Color)
(Color)

- Notes:
- This is the newsstand edition. It is printed on newsprint paper and has a upc "barcode" on the front cover.


- Fugitives (part 2 of 2)

Seperated from his costume and missing half his body, there is little hope that Spawn will escape from the Curse. That is, until Spawn discovers he can control his limbs to some extent even when they are removed from his body.