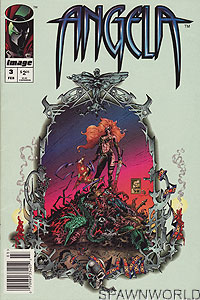 Image: Trent

- Anahita
- Andy Frank*
- Angela
- Callindra
- The Dominion
- Emperor-Elect of Jehovia
- The Flux
- Gabrielle
- Kuan Yin
- Malebolgia
- Rafael*
- Smut
- Spawn
- Starn System
- Ticki-Tacki
- Wampyr

* Shown but not named
- Book:
Angela
- Issue:
3
- Date:
February 1995
- Writer(s):
- Neil Gaiman
- Artist(s):

- Greg Capullo
- Mark Pennington
- Tom Orzechowski
- Todd Broeker
- Fierce Colorgraphics
(Pencils)
(Inks)
(Letters)
(Color)
(Color)

- Notes:
- This is the newsstand edition. It is printed on newsprint paper and has a upc "barcode" on the front cover.
- 1st appearance of Rafael
- 1st appearance of Andy Frank
- Issue 3 of a 3 issue mini-series.

- Angela (part 3 of 3)

Spawn and Angela escape the area of Hell they have found htemselves in and go their seperate ways. Spawn appears back on Earth (but not anywhere that is familiar to him) while Angela returns to Elysium in order to clear her name.