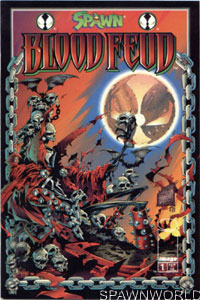 Image: Trent

- Billy
- Captain Burgess
- Harry
- Jean Perry
- Jerry
- John Sansker
- K-7 Leetha
- Larry
- Lieutenant Troy
- Sam Burke
- Sonny
- Spawn
- Twitch
- Tommy
- Book:
Spawn: Bloodfeud
- Issue:
1
- Date:
June 1995
- Writer(s):
- Alan Moore
- Artist(s):

- Tony Daniel
- Kevin Conrad
- Tom Orzechowski
- Todd Broeker
(Pencils)
(Inks)
(Letters)
(Color)

- Notes:
- Issue 1 of a 4 issue mini-series.
- Also includes a two page behind the scenes look at Alan Moore's thumbnail sketches.

- Blood Feud (part 1 of 4)

A wave of vampire-like killings sweep the city and a special investigator is brought in. John Sansker is a paranormal investigator who believes Spawn is the culprit for the crimes.

Meanwhile, Spawn has been having bad dreams, but are they his dreams or someone else's?