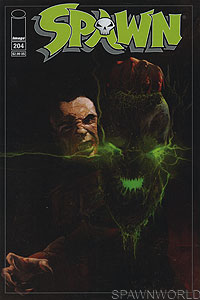 Image: Trent

- Book:
Spawn
- Issue:
204
- Date:
March 2011
- Writer(s):

- Jon Goff
- Will Carlton
(Plot, Additional Script)
(Story)

- Artist(s):

- Szymon Kudranski
- FCO Plascencia
- Tom Orzechowski
- Ben Timmreck
- Joe Ferstl
(Illustration)
(Color)
(Letters)
(Art Direction)
(Production Artist)

- Notes:
(N/A)

- New Beginnings (Part 4 of 6)

Jim is faced with the decision of whether to help save the life of one of the paparazzi that has been hounding Sara or not. While the decision is hard for him, Sara is confused and scared as to why he would have any question at all.

At Jim's request, Marc has begun researching the wedding photo showing Jim and an unknown bride. But while his efforts continue to be focused on Jim, Marc's girlfriend is feeling more and more alienated.

Watching from the shadows, Violator, Bludd and the Old Guard have decided to begin testing Jim's powers immediately, before he gets too famous.