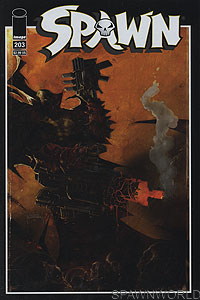 Image: Trent

- Book:
Spawn
- Issue:
203
- Date:
February 2011
- Writer(s):

- Todd McFarlane
- Will Carlton
- Jon Goff
(Plot)
(Plot, Story)
(Additional Scripting)

- Artist(s):

- Szymon Kudranski
- FCO Plascencia
- Tom Orzechowski
- Ben Timmreck
- Joe Ferstl
(Illustration)
(Color)
(Letters)
(Art Direction)
(Production Artist)

- Notes:
(N/A)

- New Beginnings (Part 3 of 6)

The effects of Jim's newfound celebrity are not all pleasant as Sara discovers when she is swarmed by paparazzi. Overwhelmed, she reaches out to Jim for help, but his arrival only makes matters worse.

Watching from a distance, the Violator discusses testing Jim's powers with 3 mysterious agents called the Old Guard.

Elsewhere, Malebolgia begins retrieving the portions of his powers that he had hidden before his "defeat".