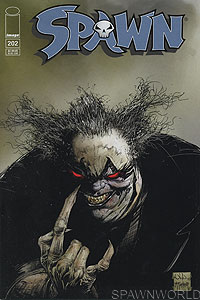 Image: Trent

- Book:
Spawn
- Issue:
202
- Date:
February 2011
- Writer(s):

- Todd McFarlane
- Will Carlton
(Plot)
(Plot, Story)

- Artist(s):

- Szymon Kudranski
- FCO Plascencia
- Tom Orzechowski
- Whilce Portacio
- Todd McFarlane
- Ben Timmreck
- Joe Ferstl
(Interior Illustration)
(Color)
(Letters)
(Cover Pencils)
(Cover Inks)
(Art Direction)
(Production Artist)

- Notes:
(N/A)

- New Beginnings (Part 2 of 6)

In the afterglow of his momentous appearance on the Karlene Phillips Show, Jim is excited by the prospect of helping others and the fame that will come with it. Marc immediately begins accepting calls and offers for appearances by Jim, beginning with a meeting with the head of the Ramus Corporation.

Upon arriving, however, Jim quickly realizes Mr. Ramus isn't who he appears to be. Meanwhile, things take a turn for the worse for poor Sam Burke in his hospital bed.