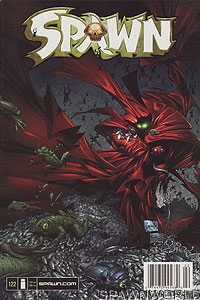 Image: Trent

- Book:
Spawn
- Issue:
122
- Date:
January 2003
- Writer(s):

- Brian Holguin
- Todd McFarlane
(Plot, Story)
(Plot)

- Artist(s):

- Angel Medina
- Danny Miki
- Victor Olazaba
- Allen Martinez
- Crime Lab Studios
- Greg Capullo
- Tom Orzechowski
- Dan Kemp
- Brian Haberlin
- Ben Timmreck
- Gentry Smith
(Pencils)
(Inks)
(Inks)
(Inks)
(Inks)
(Cover)
(Letters)
(Color)
(Color)
(Art direction)
(Graphic design)

- Notes:
- This is the newsstand edition. It is printed on newsprint paper and has a upc "barcode" on the front cover.
- 1st appearance of Nyx

- Salvation Road Part II (of 4)

As Al runs from his shadow (Spawn), he garners the attention of a young wiccan named Nyx. She finds Al and claims she wants to help.

Wanda and Terry are puzzled as to who would want to dig up Al's grave. Terry asks for any information that his superiors in the government might have, and soon after, Jason Wynn is questioned for answers.