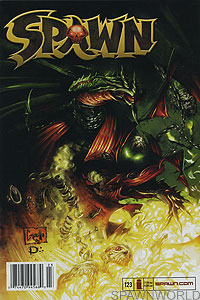 Image: Trent

- Book:
Spawn
- Issue:
123
- Date:
February 2003
- Writer(s):

- Brian Holguin
- Todd McFarlane
(Plot, Story)
(Plot)

- Artist(s):

- Angel Medina
- Danny Miki
- Victor Olazaba
- Allen Martinez
- Crime Lab Studios
- Greg Capullo
- Tom Orzechowski
- Dan Kemp
- Brian Haberlin
- Ben Timmreck
- Gentry Smith
(Pencils)
(Inks)
(Inks)
(Inks)
(Inks)
(Cover)
(Letters)
(Color)
(Color)
(Art direction)
(Graphic design)

- Notes:
- This is the newsstand edition. It is printed on newsprint paper and has a upc "barcode" on the front cover.


- Salvation Road Part III (of 4)

Spawn is taken in by his new friend Nyx and together they discuss who he is and who he was. Things take anunexpected turn, however, when Nyx binds Spawn to her bed and brandishes a large knife.

In a government office, Jason Wynn is interrogated about his knoledge of Al Simmons. Wynn, who is still quite insane, receives some help from the Violator and is able to work the situation to his advantage.