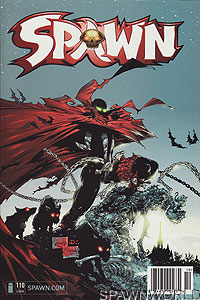 Image: Trent

- Book:
Spawn
- Issue:
110
- Date:
July 2001
- Writer(s):

- Brian Holguin
- Todd McFarlane
(Plot, Story)
(Plot)

- Artist(s):

- Angel Medina
- Danny Miki
- Victor Olazaba
- Allen Martinez
- Crime Lab Studios
- Greg Capullo
- Todd McFarlane
- Tom Orzechowski
- Brian Haberlin
- Dan Kemp
- Haberlin Studios
- Boyd Williams
- Brent Ashe
(Pencils)
(Inks)
(Inks)
(Inks)
(Inks)
(Cover pencils)
(Cover inks)
(Letters)
(Color)
(Color)
(Color)
(Graphic design)
(Graphic design)

- Notes:
- This is the newsstand edition. It is printed on newsprint paper and has a upc "barcode" on the front cover.


- The Kingdom - Part 4 (of 7)

Sam, Twitch, Ab, Zab and Spawn all have a rooftop meeting. Ab and Zab have brought along the disembodied head of Wolfram who, reluctantly, tells them who they face.

Within The Kingdom, young Max discovers what has happened to him and just exactly what crowd he has fallen in with.