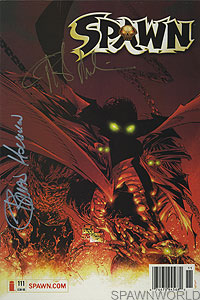 Image: Trent

- Book:
Spawn
- Issue:
111
- Date:
August 2001
- Writer(s):

- Brian Holguin
- Todd McFarlane
(Plot, Story)
(Plot)

- Artist(s):

- Angel Medina
- Danny Miki
- Victor Olazaba
- Allen Martinez
- Crime Lab Studios
- Greg Capullo
- Todd McFarlane
- Tom Orzechowski
- Brian Haberlin
- Dan Kemp
- Haberlin Studios
- Boyd Williams
- Brent Ashe
(Pencils)
(Inks)
(Inks)
(Inks)
(Inks)
(Cover pencils)
(Cover inks)
(Letters)
(Color)
(Color)
(Color)
(Graphic design)
(Graphic design)

- Notes:
- This is the newsstand edition. It is printed on newsprint paper and has a upc "barcode" on the front cover.
- The cover image shown for this issue is signed by Brian Holguin and Angel Medina. This is not standard.


- The Kingdom - Part 5 (of 7)

Spawn battles Simon Pure and the Kingdom, but neither side truly understands what they are up against. The battle ends in a stalemate and both sides regroup. Spawn develops a plan that requires the help of Ab and Zab while The Kingdom gathers all its forces to 'cleanse' humanity.